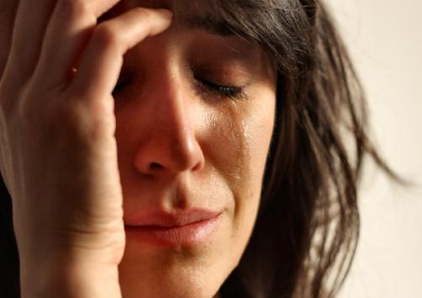 I was winding my way through the dark parking structure, with a long line of cars behind me. Suddenly, the car in front of me stopped, and I jammed on the brakes, while shooting a glance in my rearview mirror. Thankfully, the car behind me stopped in time, and so did each vehicle in the Conga line that snaked its way back down to the previous level. I breathed deeply to quiet my heart rate, and continued inching forward, scanning from side to side for an empty space to park in.
I was at the hospital to visit a member of my congregation who had suffered another heart attack – one of many he's had over the years. Each time he goes in to the hospital, his doctors tell him he needs to change the way he eats, and each time he ignores their advice. But I go in to visit him anyway. I listen to his stories, I catch him up on church news, and I anoint him with oil and pray for his healing. That's what I do – I'm his pastor.
When I finally slipped my minivan into a spot just a couple of feet wider than its chassis, and put the shift into Park, I heaved a sigh of relief, and whipped out my cellphone. I called up the Facebook app, and thumbed in a new status update: "I hate parking garages."
Almost immediately, a friend commented: "First world problems." And I knew that would be the last comment I received on that particular post.
"First world problems." I felt ashamed of myself for even daring to vent my frustration. What a whiner I must be! Don't I have any sense of perspective? The comment shamed me but also made me angry at the same time. I didn't understand my reaction, so I filed it away, and focused on ministering to the elderly man I had come to visit.
Since that day, I've seen the comment a hundred times on facebook, or as a hashtag on Twitter. #firstworldproblems! And it's bugged me every time, though it's taken me over a year to figure out why.
When I say, "first world problems!" to a friend, it allows me in one act to do two simultaneous, though contradictory things: it allows me to assert my own moral superiority through refusing to show compassion to someone else. More than that, it allows me to ignore the specific difficulty someone I personally know is experiencing in favor of a generalized, vague recognition of unstated difficulties that someone I am entirely unconnected with may possibly be suffering, somewhere in some other country. It is an act of breathtaking cynicism, disguised as moral rectitude. It is a comment of diabolical genius.
Please don't misunderstand me, I have been to India and to Africa, and spent weeks getting to know people whose lives and problems are very different from mine. I have sat with children suffering from tuberculosis, and marveled at their ability to maintain good cheer in the midst of their suffering. I have been humbled by the generosity of people who have shared their best with me while we sat in a low-ceilinged hut dug out of hard clay, in a single-roomed home about the size of my office back in the States. I am grateful for the perspective that identifying with the poor and the marginalized has brought me over the years. I believe that the God of compassion has allowed me those moments to bring me to my knees. And those experiences have inspired me to reach out to many in my own city whose suffering eclipses my own. It is good to be humbled. But forgive me for pointing out the obvious, there's a difference between being humbled by God and being humiliated by a friend.
John put it clearly: "If anyone says, "I love God," and hates his brother, he is a liar; for he who does not love his brother whom he has seen cannot love God whom he has not seen." (1 John 4:20) It is true that we in the Western world are prone to whining about problems that, in the grand scheme of things, are not all that significant. But they are still real problems, and to the person experiencing them, they feel big. It is also true that when you are on the receiving end of those complaints, the urge to smack the complainer upside the head is quite strong. Let me suggest an alternate line of approach.
"Bear one another's burdens, and so fulfill the law of Christ." (Galatians 6:2) The "law of Christ" Paul speaks of in this passage is the law of love – and love is fulfilled, he says, by bearing one another's burdens. But what if your friend is a silly whiner? Paul continues: "For if anyone thinks he is something, when he is nothing, he deceives himself." (6:3) Apparently, the desire towards self-righteousness is not new to the Facebook age. They struggled with it in Paul's time, as well. The problem with making your friend feel like nothing because of their whining is that we tend to lose sight of the fact that we are nothing, too. We put others in their place, at least in part, due to a desire to assign ourselves a superior place. Here's a better idea: we should stop comparing ourselves to others entirely, and allow God to be both our judge and theirs. In the mean time, we can show them compassion. Which, actually, is the advice Paul gives as the passage continues: "But let each one test his own work, and then his reason to boast will be in himself alone and not in his neighbor." (6:4) Quit comparing yourself with others, and using others' shame as a way of boosting your own self-esteem. When it comes to judgment, focus on yourself. Paul concludes the thought: "For each will have to bear his own load." (6:5) This seems like it contradicts verse 2, but "burdens" and "load" are very different references in the Greek. A "burden" is something that is impossible for one person to carry alone, while a "load" is a common backpack.
If a friend of yours starts whining on Facebook, resist the urge to smack them down. Instead, tell them you love them and that you're praying for them. Perhaps there will come a day when they will be there for you.